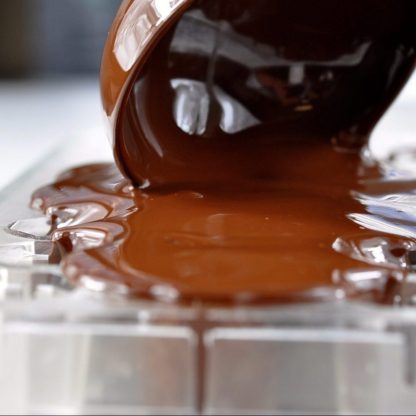 Moulded chocolates
650.00 DKK
Duration: 3 hours 30 min
Learn the art of molding chocolates by a French chocolatier with years of experience.
If you have never worked with chocolate, and dream of making chocolate from scratch, then this hands-on course is for you.
After a brief introduction of the different chocolates and tempering methods, we will make different chocolates from scratch. We fill them with various ganache.
You will learn different techniques to mold, fill and close the chocolate shells.
We will produce 4 different kinds of chocolates.
The course includes a break with coffee/tea.
The chocolates are shared/mixed and packed in boxes, so you can take them home.
Each participant get a box of chocolates to take home
(approx 40 pcs. assorted filled chocolates / 400 gr.).
The class will be in English
This class is perfect for beginners.
Recipes will be sent by e-mail after the course.
Order
SUNDAY 08 NOVEMBER 2020 | 14:00-17:30
5 in stock
Fatal error: Uncaught Error: Call to a member function get_attribute() on bool in /customers/7/2/2/terrible.dk/httpd.www/wp-content/themes/storefront-child/template-englishClass.php:87 Stack trace: #0 /customers/7/2/2/terrible.dk/httpd.www/wp-includes/template-loader.php(106): include() #1 /customers/7/2/2/terrible.dk/httpd.www/wp-blog-header.php(19): require_once('/customers/7/2/...') #2 /customers/7/2/2/terrible.dk/httpd.www/index.php(17): require('/customers/7/2/...') #3 {main} thrown in /customers/7/2/2/terrible.dk/httpd.www/wp-content/themes/storefront-child/template-englishClass.php on line 87