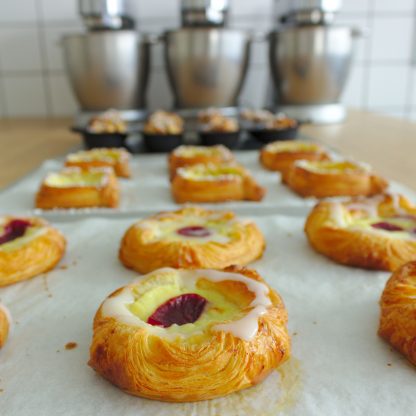 The Art of Baking Danish Pastry
650.00 kr. – 700.00 kr.
Do you know the taste of a fresh butter baked Danish pastry?
During this hands-on class, you will learn to bake Danish happiness (dansk hygge).
A professional pastry chef with many years of experience will guide you through all the different baking techniques and tips including kneading, rolling and folding the dough with butter.
We will make a selection of traditional and delicious Danish pastries (Wienerbrød).
The course will have a break with coffee/tea where you can try some of your Danish pastries and exchange your cultural/baking experiences. You can bring the rest of them home to share with your family.
You work in stations of 2 so if you book this alone, please be aware that you will be paired with another baking enthusiast. But this is also a great chance to meet new people.
Recipes:
Very detailed recipes will be sent to your email after the class, so it is important that you leave your email-address. This also means that you can concentrate on the baking part and take great pictures of your lovely pastries.
Children:
From 11 years old are welcome in the class if with a paying adult. From the age of 13 years, a child can participate alone – but please contact me before booking so that I can confirm. I only accept paying participants in the kitchen.
Allergies and special considerations:
This class is not suitable for persons with gluten, lactose, almond allergies.
The class will be in English
This class is perfect for beginners
Please note that the course may take a bit longer time
Order
FRIDAY 14 OCTOBER 2022 | 09:00-12:30
fully booked
MONDAY 17 OCTOBER 2022 | 09:00-12:30
fully booked
TUESDAY 18 OCTOBER 2022 | 09:00-12:30
fully booked
FRIDAY 21 OCTOBER 2022 | 09:00-12:30
2 in stock
MONDAY 24 OCTOBER 2022 | 09:00-12:30
2 in stock
FRIDAY 28 OCTOBER 2022 | 09:00-12:30
fully booked
MONDAY 31 OCTOBER 2022 | 09:00-12:30
1 in stock
FRIDAY 04 NOVEMBER 2022 | 09:00-12:30
7 in stock
FRIDAY 11 NOVEMBER 2022 | 09:00-12:30
2 in stock
MONDAY 14 NOVEMBER 2022 | 09:00-12:30
10 in stock
FRIDAY 18 NOVEMBER 2022 | 09:00-12:30
7 in stock
MONDAY 21 NOVEMBER 2022 | 00:00-03:30
6 in stock
THURSDAY 24 NOVEMBER 2022 | 09:00-12:30
9 in stock
FRIDAY 25 NOVEMBER 2022 | 09:00-12:30
8 in stock
MONDAY 28 NOVEMBER 2022 | 09:00-12:30
10 in stock
FRIDAY 02 DECEMBER 2022 | 09:00-12:30
10 in stock
MONDAY 05 DECEMBER 2022 | 09:00-12:30
8 in stock
FRIDAY 09 DECEMBER 2022 | 09:00-12:30
8 in stock
MONDAY 12 DECEMBER 2022 | 09:00-12:30
8 in stock
FRIDAY 16 DECEMBER 2022 | 09:00-12:30
10 in stock
MONDAY 19 DECEMBER 2022 | 09:00-12:30
7 in stock
FRIDAY 23 DECEMBER 2022 | 09:00-12:30
1 in stock
MONDAY 26 DECEMBER 2022 | 09:00-12:30
8 in stock
TUESDAY 27 DECEMBER 2022 | 09:00-12:30
9 in stock
WEDNESDAY 28 DECEMBER 2022 | 09:00-12:30
10 in stock
THURSDAY 29 DECEMBER 2022 | 09:00-12:30
10 in stock
FRIDAY 30 DECEMBER 2022 | 09:00-12:30
10 in stock
SATURDAY 31 DECEMBER 2022 | 09:00-12:30
6 in stock
MONDAY 02 JANUARY 2023 | 09:00-12:30
12 in stock
FRIDAY 06 JANUARY 2023 | 09:00-12:30
12 in stock
MONDAY 09 JANUARY 2023 | 09:00-12:30
12 in stock
FRIDAY 13 JANUARY 2023 | 09:00-12:30
12 in stock
MONDAY 16 JANUARY 2023 | 09:00-12:30
12 in stock
FRIDAY 20 JANUARY 2023 | 09:00-12:30
12 in stock