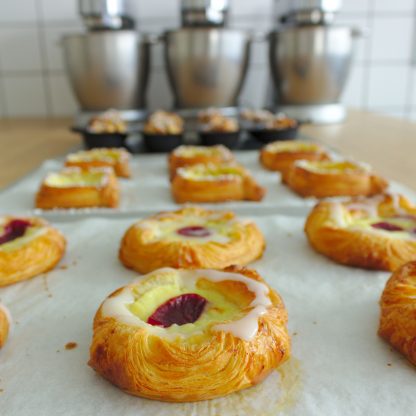 The Art of Baking Danish Pastry
700.00 kr.
Do you know the taste of a fresh butter baked Danish pastry? During this hands-on class, you will learn to bake Danish happiness (dansk hygge).
A professional pastry chef with many years of experience will guide you through all the different baking techniques and tips including kneading, rolling and folding a Danish pastry dough with butter. We will make a selection of 4 different kinds of traditional and delicious Danish pastry. For example delicious cinnamon snails, beautifully turned frøsnappere with marzipan remonce and spandauere with custard.
The classes will have a break with coffee/tea, where you can taste some of your Danish pastries and exchange your cultural and baking experiences. You can take the rest of the Danish pastries home and share with your family or friends. You work in pairs, so if you book this class alone, please note that you will work together with another baking enthusiast. But this is also a great chance to meet new people.
What is included
Ingredients and instruction.
Coffee and tea.
Packaging for transport so you can take them home.
All recipes will be sent by email after the event.
Some Danish pastry dough that you can freeze and bake at home.
Note
The whole process of making Danish pastry is a challenge and time consuming. We have therefore prepared a dough in advance so we have time to make, bake and taste the Danish pastries. When they rise before being baked, we will then make a new dough from scratch, so you will go through the whole process during the class.
Please note that the class may take a little longer, so we recommend that you arrive 10 minutes before the class starts.
Children
Children from the age of 11 are welcome in the class if they buy a ticket and participate with a paying adult. Children from the age of 13 can participate alone, but please contact me before you book so I can confirm. I only accept paying participants in the kitchen.
Dress code
Wear practical clothes and comfortable flat shoes. Avoid wearing black clothes as you will use flour during most of the class. If you wish to bring your own apron, you are welcome to do so. Alternatively, we provide disposable plastic aprons.
Recipes
Fine detailed recipes are sent to your e-mail after the classes, so it is important that you provide your e-mail address. This also means that you can concentrate on the baking part and take great pictures of your delicious Danish pastries.
Allergies and special considerations
This class is not suitable for people with gluten allergy or lactose allergy. If you are allergic to other foods, or if you have a religious belief that prevents you from eating certain foods, then we would like to know this before the beginning of the class.
Ingredients
These are the ingredients that we will use in the recipes: Wheat flour, sugar, salt, cornmeal/starch, almonds, sesame seeds, poppy seeds, cinnamon, vanilla, raspberry, pectin, whole milk (cow), fresh yeast, butter, eggs and chocolate.
Level
This class is perfect for beginners.
Language
The class will be in English.
Order
MONDAY 11 DECEMBER 2023 | 09:00-12:30
fully booked
FRIDAY 15 DECEMBER 2023 | 09:00-12:30
fully booked
MONDAY 18 DECEMBER 2023 | 09:00-12:30
fully booked
THURSDAY 21 DECEMBER 2023 | 09:00-12:30
fully booked
SATURDAY 23 DECEMBER 2023 | 09:00-12:30
fully booked
TUESDAY 26 DECEMBER 2023 | 09:00-12:30
fully booked
WEDNESDAY 27 DECEMBER 2023 | 09:00-12:30
fully booked
THURSDAY 28 DECEMBER 2023 | 09:00-12:30
fully booked
FRIDAY 29 DECEMBER 2023 | 09:00-12:30
fully booked
SATURDAY 30 DECEMBER 2023 | 09:00-12:30
fully booked
SUNDAY 31 DECEMBER 2023 | 09:00-12:30
fully booked
TUESDAY 02 JANUARY 2024 | 09:00-12:30
fully booked
FRIDAY 05 JANUARY 2024 | 09:00-12:30
fully booked
MONDAY 08 JANUARY 2024 | 09:00-12:30
3 in stock
FRIDAY 12 JANUARY 2024 | 09:00-12:30
10 in stock
MONDAY 15 JANUARY 2024 | 09:00-12:30
9 in stock
FRIDAY 19 JANUARY 2024 | 09:00-12:30
12 in stock
MONDAY 22 JANUARY 2024 | 09:00-12:30
12 in stock
FRIDAY 26 JANUARY 2024 | 09:00-12:30
8 in stock
FRIDAY 09 FEBRUARY 2024 | 09:00-12:30
12 in stock
MONDAY 12 FEBRUARY 2024 | 09:00-12:30
12 in stock
FRIDAY 16 FEBRUARY 2024 | 09:00-12:30
9 in stock
SATURDAY 17 FEBRUARY 2024 | 09:00-12:30
6 in stock
MONDAY 19 FEBRUARY 2024 | 09:00-12:30
11 in stock
FRIDAY 23 FEBRUARY 2024 | 09:00-12:30
10 in stock
MONDAY 26 FEBRUARY 2024 | 09:00-12:30
12 in stock
FRIDAY 01 MARCH 2024 | 09:00-12:30
10 in stock
MONDAY 04 MARCH 2024 | 09:00-12:30
10 in stock
FRIDAY 08 MARCH 2024 | 09:00-12:30
12 in stock
MONDAY 11 MARCH 2024 | 09:00-12:30
10 in stock
FRIDAY 15 MARCH 2024 | 09:00-12:30
12 in stock
MONDAY 18 MARCH 2024 | 09:00-12:30
12 in stock
FRIDAY 22 MARCH 2024 | 09:00-12:30
12 in stock
SUNDAY 24 MARCH 2024 | 09:00-12:30
7 in stock
MONDAY 25 MARCH 2024 | 09:00-12:30
10 in stock
THURSDAY 28 MARCH 2024 | 09:00-12:30
12 in stock
FRIDAY 29 MARCH 2024 | 09:00-12:30
12 in stock
SATURDAY 30 MARCH 2024 | 09:00-12:30
12 in stock
SUNDAY 31 MARCH 2024 | 09:00-12:30
12 in stock
MONDAY 01 APRIL 2024 | 09:00-12:30
12 in stock
FRIDAY 05 APRIL 2024 | 09:00-12:30
11 in stock
SATURDAY 06 APRIL 2024 | 09:00-12:30
12 in stock
MONDAY 08 APRIL 2024 | 09:00-12:30
12 in stock
FRIDAY 12 APRIL 2024 | 09:00-12:30
12 in stock
MONDAY 15 APRIL 2024 | 09:00-12:30
12 in stock
FRIDAY 19 APRIL 2024 | 09:00-12:30
10 in stock
MONDAY 22 APRIL 2024 | 09:00-12:30
8 in stock
FRIDAY 26 APRIL 2024 | 09:00-12:30
6 in stock
MONDAY 29 APRIL 2024 | 09:00-12:30
12 in stock
THURSDAY 09 MAY 2024 | 09:00-12:30
12 in stock
FRIDAY 10 MAY 2024 | 09:00-12:30
12 in stock
SATURDAY 11 MAY 2024 | 09:00-12:30
11 in stock
MONDAY 13 MAY 2024 | 09:00-12:30
12 in stock
FRIDAY 17 MAY 2024 | 09:00-12:30
12 in stock
SATURDAY 18 MAY 2024 | 09:00-12:30
12 in stock
SUNDAY 19 MAY 2024 | 09:00-12:30
12 in stock
MONDAY 20 MAY 2024 | 09:00-12:30
12 in stock
TUESDAY 21 MAY 2024 | 09:00-12:30
12 in stock
FRIDAY 24 MAY 2024 | 09:00-12:30
12 in stock
SUNDAY 26 MAY 2024 | 09:00-12:30
12 in stock
MONDAY 27 MAY 2024 | 09:00-12:30
10 in stock
FRIDAY 31 MAY 2024 | 09:00-12:30
12 in stock
SUNDAY 02 JUNE 2024 | 09:00-12:30
12 in stock