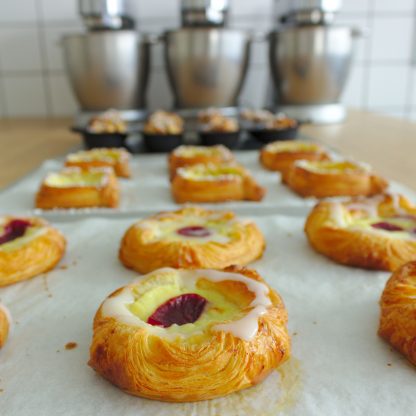 The Art of Baking Danish Pastry
650.00 DKK
Duration: 3,5 hours
Do you know the smell of butter baked Danish pastry?
During this hands-on class, you learn how to make the perfect dough and different kinds of Danish pastry.
Frédéric our French pastry chef with years of experience will guide you through all the different baking techniques and secrets including kneading, rolling and folding the dough with butter. We will make  different kinds of Danish pastry.
We will have a break with coffee/tea where you can try some of your Danish pastry.
You can bring the rest of them home to share with your family.
The price includes
– Ingredients and instruction
– A break with coffee/tea
– Paper bag for transport
– Recipes will be sent by e-mail after the course
The class will be in English
Maximum 10 participants for this session
This class is perfect for beginners
Order
SATURDAY 23 NOVEMBER 2019 | 10:00-13:30
fully booked
SATURDAY 04 APRIL 2020 | 09:00-12:30
10 in stock
SATURDAY 30 MAY 2020 | 09:00-12:30
10 in stock