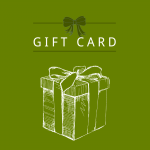 The perfect gift for Christmas, your mother's birthday or just because you want to please a person.
Click here and fill the form with contact information for both you and the recipient. If you want to give a specific course on a certain date, please provide the information in the comment field.

You will receive a confirmation with our bank account information and a Gift Card number. When you bank transfer the money to our bank account, you must write the Gift Card number in the text box. As soon as the money is in our account, we send an email with an attached PDF file with the Gift Card that can be printed or forwarded to the recipient.

The recipient will be able to choose the desired course at:
www.terrible.dk/en (English classes)
www.terrible.dk (Danish classes)
The recipient must book the course by sending an email with the Gift Card number and the date. The booking will be validated when the recipient receives a confirmation for the date.
The Gift Card is valid for 12 months from date of purchase, giving the recipient plenty of time to book the preferred course on a date that suits.